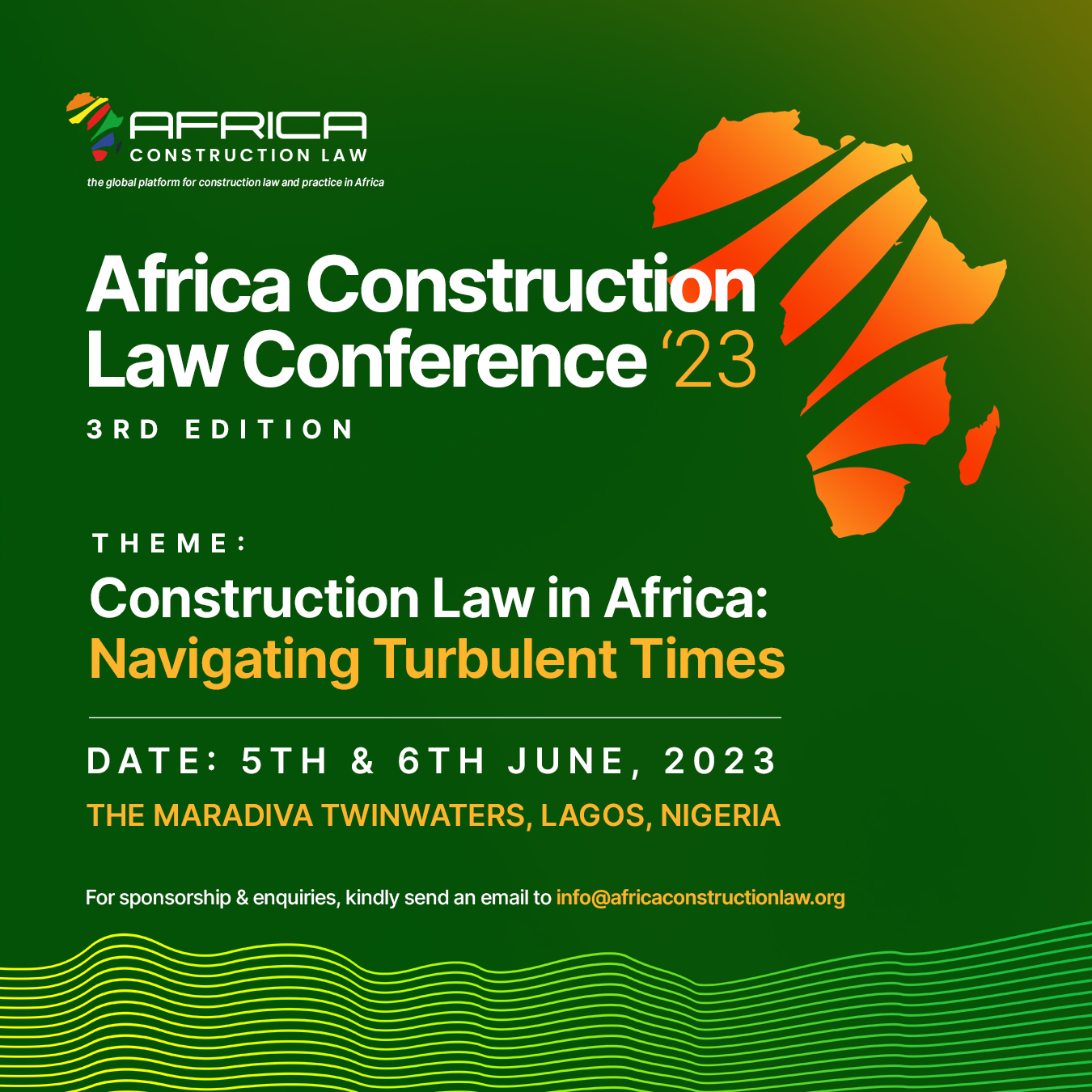 ACL Conference
The 2023 annual Africa Construction Law (ACL) Conference, scheduled for 5 and 6 June 2023, is a gathering of practitioners working in the infrastructure and energy space across Africa.
The theme for this year's conference is "Construction Law in Africa: Navigating Turbulent Times." The conference will hold in-person in Lagos, Nigeria and will see a confluence of construction law professionals experienced in African projects interrogate trends in construction law and infrastructure across English-speaking, Francophone and Lusophone African jurisdictions.
The 2023 edition builds on the success of previous editions which attracted a high level of interest, globally. In particular, the 2022 edition had delegates attend in-person from various jurisdictions including London, Paris, Portugal, United Arab Emirates, Kenya, Uganda, South Africa, Senegal Cote d'Ivoire, Zambia, Cameroon and Angola. Delegates at the conference represented a cross-section comprising of contractors, employers, developers, banks and finance institutions, government institutions, law firms, Chambers and expert consultancies. The conference is supported by leading law firms, expert consultancies, academic institutions, arbitral institutions, and other professional bodies from the continent and beyond.
The speaker line-up includes some of the most prominent legal and technical professionals in the field and will present networking opportunities with stakeholders from across the continent with sponsors exhibition stands permitting direct engagement with delegates.
The conference features full plenary sessions over two days, covering current trends and developments in construction law and the infrastructural challenges faced across English-speaking, Francophone and Lusophone African jurisdictions. The agenda explores a wide range of issues, covering the full financing, contracting and dispute resolution spectrum. The schedule includes sessions on the legal frameworks and standards in construction law and dispute resolution in Africa; mitigating the adverse effects of currency fluctuation, inflation, supply chain disruption and taxation on contracts and projects in Africa; alternative dispute resolution mechanism in the construction sector in Africa; capacity building and professional development in construction law and dispute resolution in Africa; managing construction claims or disputes in Africa.
The agenda also features perspectives and experiences from in-house practitioners and their insights on emerging issues including the management of disputes arising out of African construction and infrastructure projects.