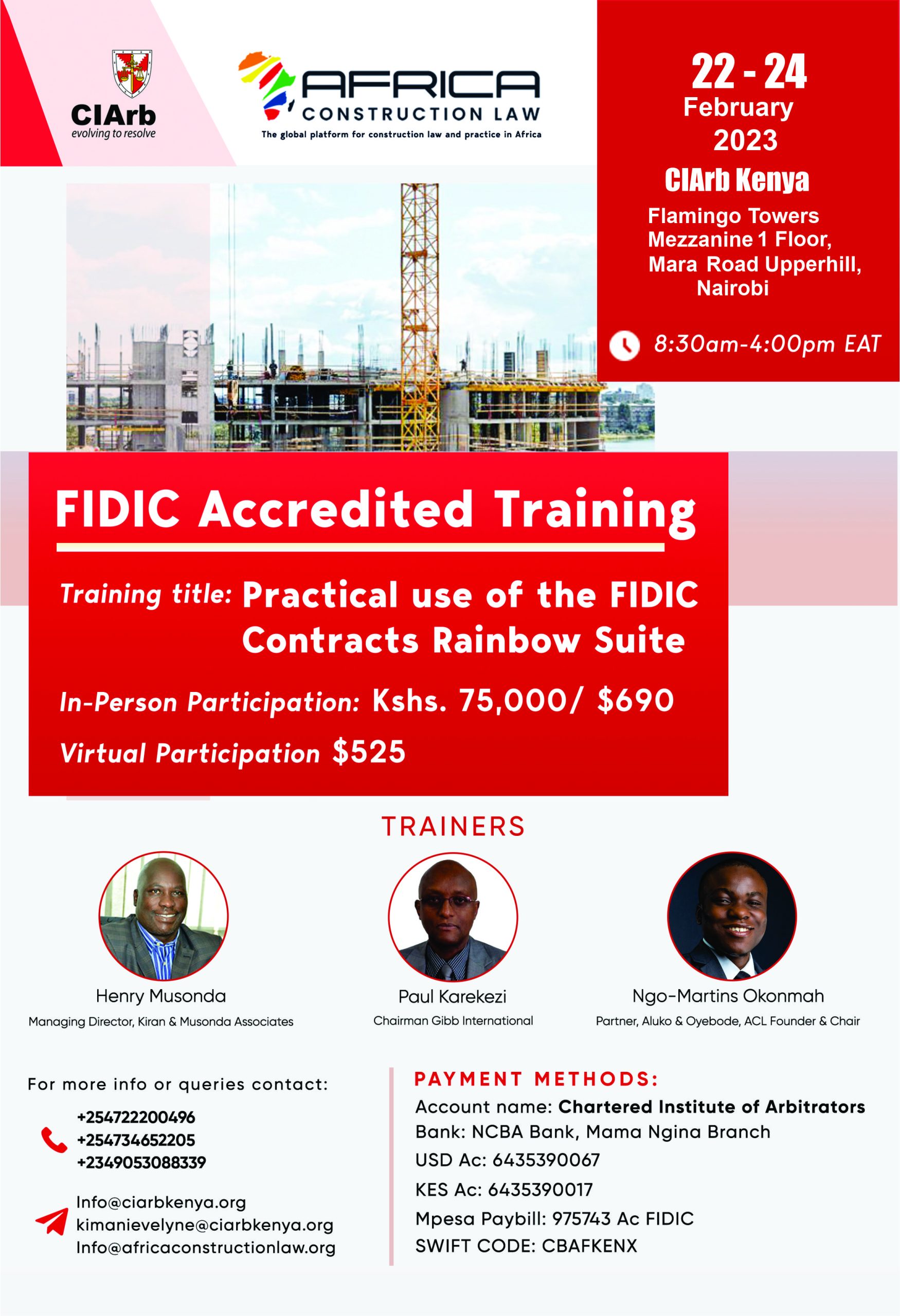 CIArb Kenya & Africa Construction Law Joint FIDIC Accredited Training on Practical Use of the FIDIC Contracts Rainbow Suite.
Africa Construction Law (ACL) is pleased to host a joint CIArb Kenya & ACL FIDIC Accredited Training on:
Practical Use of the FIDIC Contracts Rainbow Suite. 
FIDIC is a respected institution and is renowned for its standard form of contracts which have been widely used for the construction and engineering industries, including in several African jurisdictions. It has consistently improved its contracts over the years by adding new forms of contracts, substituting old ones, and updating important terms. It has implemented a multi-tiered dispute resolution process that emphasizes amicable settlement and promotes effective contract management. This interactive FIDIC accredited two-day training will be delivered by highly experienced practitioners and will focus on the application of the FIDIC rainbow suite in the successful delivery of construction projects.
Delegates will be provided with a sound understanding on the practical use of the FIDIC Construction Contracts. The procedures and application of the Contract clauses are explored with the use of cases studies which will be utilised throughout the training to give delegates a foundation on how to use these complex Contracts.
Course Overview:
Overview & Application of the FIDIC conditions of contract
Allocation of risks
Employer's risks
Contractor's risks
Roles of Employer and Engineer:
Duties of Employer
Duties `of Engineer
Payments
Termination of contract
The Role of the Contractor
Programme of work
Progress reports
Quality and standards
Site operations
Interim measurements & Monthly statements
Notices
Preparation, presentation and justification of claims
Claims under FIDIC Conditions of Contract
Contractors claims
Employers claims
Unforeseeable physical conditions
Unforeseeable economic conditions
Prolongation and disruptions claims
Dispute Resolution
Is there a dispute (dispute having arisen)
Engineers decision
Amicable Settlement
Adjudication
Arbitration
Who this course is for: engineers, project/contracts managers, employers, contractors, subcontractors, lawyers, quantity surveyors, funding institutions, project stakeholders.
To attend the training please register using the following link: