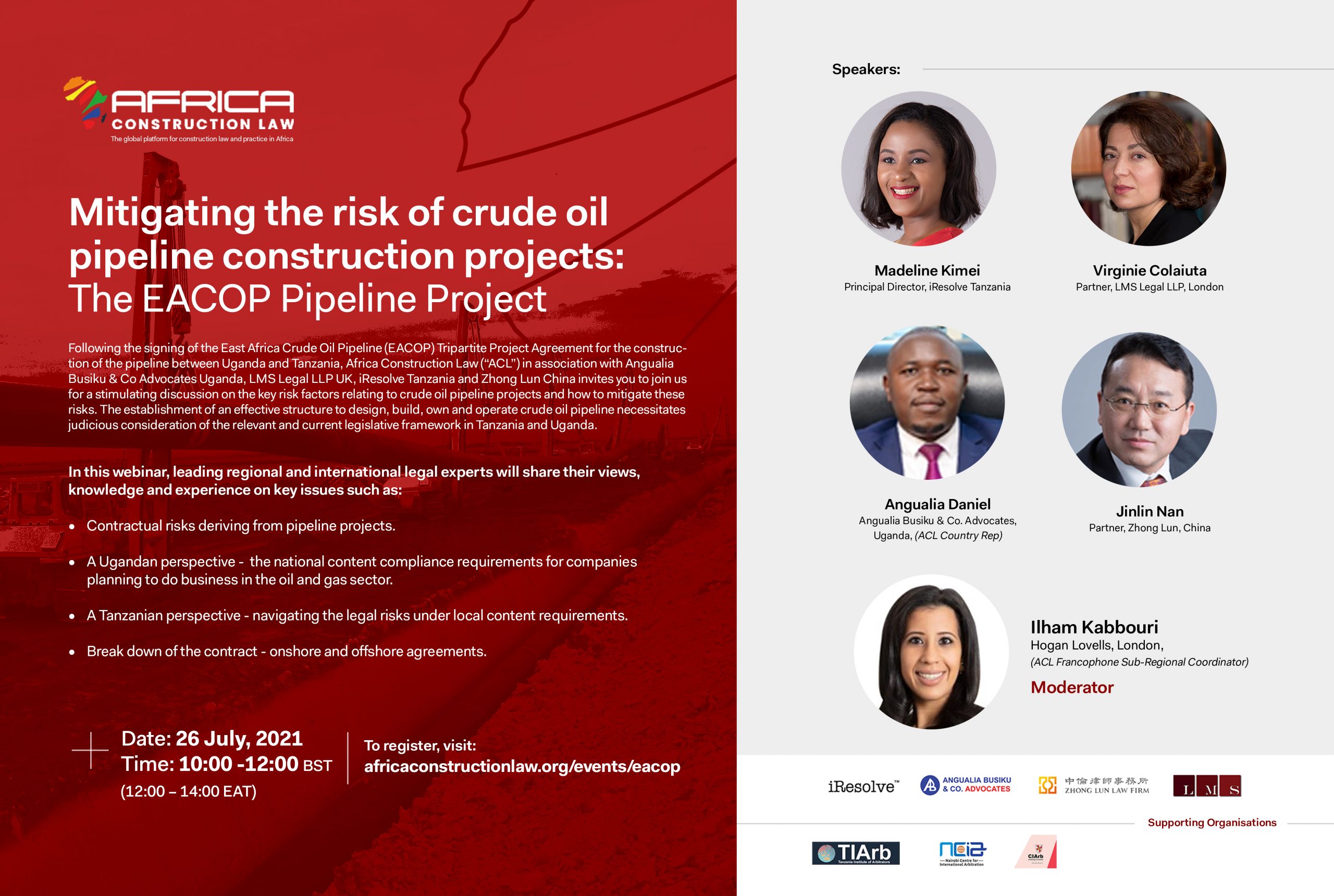 Mitigating the risk of crude oil pipeline construction project: The EACOP Pipeline project
Following the signing of the East Africa Crude Oil Pipeline (EACOP) Tripartite Project Agreement for the construction of the pipeline between Uganda and Tanzania, Africa Construction Law ("ACL") in association with Angualia Busiku & Co Advocates Uganda, LMS Legal LLP UK, iResolve Tanzania and Zhong Lun China invites you to join us for a stimulating discussion on the key risk factors relating to crude oil pipeline projects and how to mitigate these risks. The establishment of an effective structure to design, build, own and operate crude oil pipeline necessitates judicious consideration of the relevant and current legislative framework in Tanzania and Uganda.
In this webinar, leading regional and international legal experts will share their views, knowledge and experience on key issues such as:
Contractual risks deriving from pipeline projects.
A Ugandan perspective -the national content compliance requirements for companies planning to do business in the oil and gas sector.
A Tanzanian perspective – navigating the legal risks under local content requirements.
Break down of the contract – onshore and offshore agreements.
Speakers: 
Virginie Colaiuta, Partner, LMS Legal LLP, London
Daniel Angualia, Angualia Busiku & Co. Advocates, Uganda, (ACL Country Rep)
Madeline Kimei, Principal Director, iResolve, Tanzania.
Jinlin Nan, Partner, Zhong Lun, China.
Moderator:
Ilham Kabbouri, Hogan Lovells, London, (ACL Francophone Sub-Regional Coordinator)
Register: