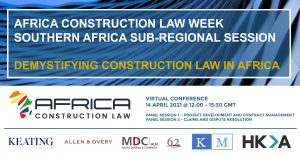 The Southern Africa sub-regional session panel of experts will address transactional issues and claims and dispute resolution in Southern Africa. Our team of expert speakers will explore the trends, opportunities and challenges within the construction markets in the region. The panel will consider the following:
 Project development: trends and issues in project development, financing and procurement.
Key regional drivers of disputes.
A regional update on the practice of adjudication.
Key regional practice points in arbitration.
The session speakers are:
Abdul Jinadu, Keating Chambers, London, UK
Daniel Tivadar, Advocate, Harare, Zimbabwe
Diana Nalishuwa, Musa Dudhia & Co., Lusaka, Zambia
Gerhard Rudolph, Allen & Overy, Johannesburg, South Africa
Henry Musonda, Kiran & Musonda Associates, Lusaka, Zambia
Ian Henstock, Murray & Roberts, Johannesburg, South Africa
Jaco De La Rey, HKA, Johannesburg, South Africa
Michelle Porter-Wright, Allen & Overy, Johannesburg, South Africa,
Millissa Peter, HKA, Johannesburg, South Africa
Muchinda Muma, Moira Mukuka Legal Practitioners, Lusaka, Zambia
Nathaniel Nyika, Norsad Finance Limited, Gaborone, Botswana
Pravesh Lallah, Allen & Overy, Johannesburg, South Africa
Robert Gaitskell QC, Keating Chambers, London, UK
Sue Brighton, Gill Godlonton & Gerrans, Harare, Zimbabwe
Talenta Chavalala, Group One Advocates, Johannesburg, South Africa
Timothy Harwin, HKA, Sydney, Australia
Uwe Putlitz, Consultant at Buildstrat and former Chief Executive Officer, Joint Building Contracts Committee, Johannesburg, South Africa
Virginie Colaiuta, LMS Legal, London, UK