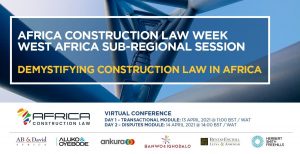 The West Africa sub-regional session will take place over two days, with day one addressing transactional issues and day two focussing on dispute resolution in the West Africa region. Over the course of the session, our team of expert speakers will discuss the trends, common risks and challenges arising at various stages of construction projects in the region. The session will also involve panel discussions where delegates will be able to pose questions to the speakers. During the session, the speakers will address the following topics:
Project procurement strategy and risk allocation – what works from a West African perspective?
Financing construction projects in West Africa – what makes a project bankable?
Public private partnerships in West Africa – why they are not always successful?
Opportunities and challenges in the West African construction market.
Challenges and success stories of foreign participation in West African construction projects including: (i) What lessons can be learnt from the Chinese sponsored projects; (ii) West Africa perspectives in Chinese sponsored projects.
Key trends in and common issues arising from construction claims and disputes in West Africa.
Delayed projects in sub-Saharan Africa – drivers of delay that are typical to the region.
Early dispute avoidance and resolution on West African construction projects.
Different forms of dispute resolution available and popular in the West Africa region.
Arbitration and the African construction industry – the trends, risks and opportunities.
Enforcement of decisions vs. forms of ADR.
Difficulties with enforcement of ADR models.
The session speakers are:
Adeola Agunbiade-Adeyemi, Banwo & Ighodalo, Lagos, Nigeria.
Adeola Sunmola, Udo Udoma & Bello-Osagie, Lagos, Nigeria.
David Ofosu-Dorte, AB & David, Accra, Ghana
Diamana Diawara, ICC Regional Director for Africa Paris, France.
Frances-Yvonne Igweh, Spencer West, London, UK.
Godwin Brocke, Chief Director at Office of the Head of Civil Service, Ghana.
Hilary Lau, Herbert Smith Freehills, London, UK.
James Doe, Herbert Smith Freehills, London, UK.
Maude Lebois, Gaillard Banifatemi Shelbaya Disputes, London, UK.
Nania Onwusa-Ankomah, Bentsi-Enchill Letsa & Ankomah, Accra, Ghana.
Oludare Senbore, Aluko & Oyebode, Lagos, Nigeria.
Ozoh Uzochukwu, Chevron, Lagos, Nigeria.
Sena Gbedemah, Ankura, London, UK.
Tunde Fagbohunlu, Aluko & Oyedobe, Lagos, Nigeria.
William Breeze, Herbert Smith Freehills, London, UK.
Yolanda Walker, CMS Cameron Mckenna Nabarro Olswang LLP, London, UK